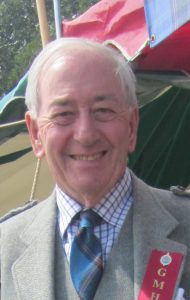 On behalf of the Trustees of Hume Castle Preservation Trust
We have just heard today the immeasurably sad news that Gos Home, our dear 'Chief of Men', died early on Saturday morning, following complications after the heart operation that seemed to have gone so well. It is a great shock to us and an event hard to believe or accept, despite our earlier concerns for him being in a vulnerable medical position in these present perilous times. Many will share our feelings of huge loss.
Our sympathy and love goes out from us all here at Hume itself to his wife Di, their children and their wider family. A very powerful and inspiring light has gone gone out, and Hume Castle, for which he worked so tirelessly, will always remind us, just by its very presence, of his enthusiastic and very productive leadership of the Hume Castle Preservation Trust. He knew the castle and the village well, loving them and visiting them amazingly frequently despite their great distance from his home. The Trustees, whether local or living farther afield, and many Hume residents, whom he made it his goal to include in every project, will never forget him, his commitment, his courtesy and his great sense of fun. The work here will go on and it will always be his lasting memorial.
John Nicholls MBE